Hot Tub Accessories:
Covana Spa Covers
STEPS
DuraStep II Deluxe
GO AHEAD AND TREAD
An upgraded version of the DuraStep II, the Deluxe adds safety and style with the addition of slip-resistant rubber treads. This creates a more elegant look and a higher perceived value.





---
CoverMate III
THE PERFECT ANSWER WHEN CLEARANCE BEHIND THE SPA IS AN ISSUE
No other hydraulic cover lift offers the beauty, reliability and superior operation of the CoverMate III. Combine that with an aluminum full-frame construction and our stylish composite mounting brackets, and you've given your customers a perfect option with no heavy lifting.







---
CoverMate II
OUT-OF-SIGHT PEACE-OF-MIND
These models allow the open cover to rest lower against the spa for a slightly less-obstructed view. Depending on the mounting system, the CoverMate II can be screw-mounted low on the spa, or simply slid underneath for spas with weaker skirts using the optional Understyle bracket system (sold separately).







---
SmartDeck
THE SIMPLE, YET VERSATILE, SPA PATIO SOLUTION
The innovative SmartDeck patio system provides a perfect solution to the problem of establishing a flat and level spa surface. Each panel locks together allowing the creation of small or large decks if desired. Textured surface and black color add to the deck's elegant appeal. The SmartDeck should be offered with every hot tub sale. Don't give away your profits to the concrete guy!




---
SpaUmbrella
YOUR CUSTOMERS ARE COVERED, RAIN OR SHINE

This elegant, European-designed umbrella lets customers enjoy their spas regardless of the elements. Powder-coated 2 1/4 inch aluminum tube construction and premium Sunbrella® material make this umbrella both durable and stylish. Finally, an umbrella that performs the way your customers expect.




---
Safe-T-Rail
GET A GRIP ON ONE OF THE BEST SPA ACCESSORIES AVAILABLE
The combination of water and slippery surfaces makes every spa a potential hazard. That's why we invented Safe-T-Rail. We believe this product has more upside sales potential than any other product we offer. Don't let a single customer-young or old-leave your showroom without considering a Safe-T-Rail for their spa.




---
TowelBar
THE SMART, CONVENIENT WAY TO KEEP TOWELS CLOSE, CLEAN AND DRY
This Hot Tub towel bar is one of those deceptively simple products that makes all the difference in spa convenience. It holds towels a short distance away from splashing water and steam and conveniently folds flat against the spa side when not in use.






---
SpaCaddy
A HANDY, SAFE PLACE TO PUT CELL PHONES, BEVERAGES AND MORE
Sturdy and versatile, the SpaCaddy is a perfect solution to an age-old problem for spa users. Now all of that stuff — from food and drinks to reading materials and more — can be placed within easy reach. Makes a great gift for spa lovers!

---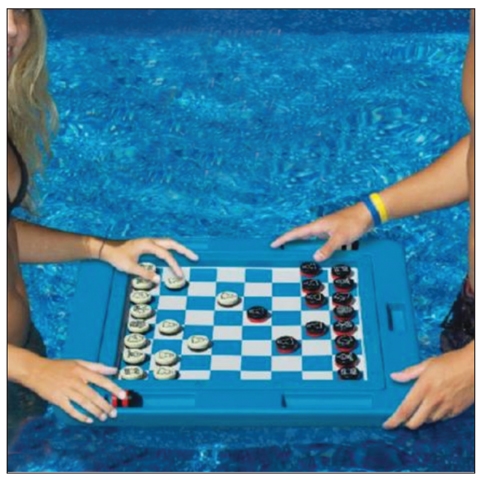 Enjoy those lazy days in and around your pool with the New Floating Games Board. Hang out with friends and have a great game of Chess, Checkers or Backgammon on those long summer days and evenings.
Play Chess or Checkers on one side and flip over to play Backgammon on the other.
Included
Games Board
Magnetic games pieces
A pair of rolling Dice
Doubling cude
Call Today to order your Hot Tub Accessories 801-561-0679